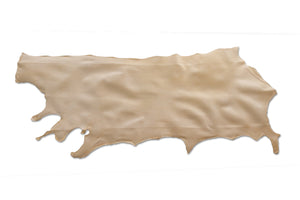 Description
ChahinLeather® rawhide is durable and strong. When soaked in water, it becomes flexible and able to be shaped or molded. Once dry, it becomes stiff and retains the shape. Bleached to a white color.
Looking for rawhide strips? We can cut them! Inquire here. 
Product Specs
Products: Saddle trees, saddle horn wraps, tack, lampshades, braided whips, snowshoes, drum heads, furniture binding, laces.
Average square feet: 20
Hide Type: Economy
Supplier Information
American Leather Direct is a proud distributor of ChahinLeather®. Their high-quality leather has been used in a wide range of industries including equine, furniture, and fashion for over 80 years.
Cut
Side Priced per piece.